Wow, I can't believe 2011 is about over. This year was THE biggest one of my life to date and I couldn't be more thankful for the memories it has blessed me with. To say goodbye to 2011 I'd like to link up with Brooke @ Silver Lining to recap some of the biggest events that made this year SO great!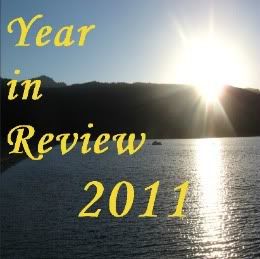 ~ Graduation!! Both Sean and I graduated this year!! He got his AAS degree in HVAC, and I got my Bachelors degree is Business Administration!! This was such a huge accomplishment for us! It was definitely hard to go to school full time and work, so graduation was such a life changing event for us!!
~ We landed awesome jobs!! The same exact week in May 2011 Sean and I both started new full time jobs!! He is working at Caterpillar as an assembly mechanic which he loves! What guy wouldn't love building heavy machinery? I started a job at Medtronic which I also love! It is so interactive, and I get to meet people from all over the world!! What a blessing!!
~ In June we adopted our little angel Remi!! This was totally God's timing. We both didn't think it was a good idea to adopt a pup until we moved out, which was about a month out at the time. Sean had called a rescue to see if they were going to have pups around the time we were ready, he had that whole week off so we though it was the perfect time to get a doggy and have it adjust! The owner of the rescue told us they would have pups, but he began telling us about this sweet heart they had named Dixie. He said she was 4 1/2 months old and at this age they begin to get overlooked because everyone wants puppies. We had to tell him no, we were living with Sean's parents and couldn't get the dog. Sean's mom had overheard this conversation and said get we could adopt her! We couldn't believe it, but we still thought it wasn't the best idea to adopt her and move her twice in a month. We kept thinking about her, and finally decided that this opportunity wouldn't have presented itself to us if it wasn't meant to be. That night we met Dixie and fell in love with her! We renamed her Remi, and the rest is history...she has been a blessing from God to us, and has added so much joy and fun to our lives!!
~ In July we moved out!! This was both our first time living outside of our parents house and together! It was so exciting, and our family was incredibly supportive and helpful! We love our home, and have already made so many memories here!
~ September 17th was the biggest, most amazing day of my life! Being married to Sean is more incredible than I could have ever expected!! I can't wait to spend the rest of my life with my best friend!
Not only has this year held so many big milestones for us, but it has blessed us with so many memories that we will have forever!! I am sad to see 2011 go, but I am VERY excited to see what 2012 has in store for us!! I hope everyone has a safe and fun New Years! Bless you all!!
Don't forget to go link up with Brooke and recap 2011!!
Jamie Leigh